This site supports the structure of Institutional Platforms.
---
Please go to the correct sub-domain site. Example: brand.tradetool.com
This site supports the structure of Institutional Platforms.
---
Please go to the site of origin for access to the trading platform
Fast, Easy, Highly Visual
Designed with simplicity and speed in mind, we deliver information only when you need it. Starting with a visual overview of the Invest4 rankings with the ability to drill down to the level of detail you want.
Intelligent Research
Using our dashboards, you understand more about the company faster. With proprietary rankings, you will see a well-rounded view of charts, Insider and Institutional , valuation, and fundamentals.  It's all here – organized intelligently!
Finding Opportunity
Finding the right opportunity is the key.  The Platform offers advanced screeners by combining various points of market data. It's comprehensive, unique, and broad-perspective research.  Search on!
Customized for Your Users
For Educators, Brokers, Newsletter, and Market Research Sites.
Designed for Engagement
Delivers Strong User Value
THE INVEST4 SCORE!
With the Invest4 method of scoring stocks, you see a high level view of the stock right in the watch list.
---




FINDING OPPORTUNITY
---
IDEA GENERATORS
The Platform uses multiple data sources and intelligent calculations to find diverse ideas for the market.  You can now find companies with algorithms based on fundamental data, institutional interest, earring potentials and chart patterns – all within one scan.
TRADE FINDER - STRATEGY SCANS
Take the idea to the next level with advanced strategy screeners. Is the market positioned for straddle or condor before Earnings? What are the covered call candidates and entry points?  Strategy screeners take the guessing out of the trade.
PINPOINT UNIQUE STOCK CONDITIONS
Scan for unique stock conditions and take advantage of the market. Unusual volatility spikes, exceptional buying or selling pressure, abnormal option activity and patterns in institutional and insider activities can generate many trading opportunities.
SAVE AND FOLLOW
Create your own resource center by bookmarking your favorite scans so they are always available.  Over 4 dozen scans are available based Market Outlook, The Score,  Technicals, Fundamentals, Institutional and Insider activity, upcoming Events and more!
OPTIONS?  OF COURSE!
Extensive options functionality. Powerfully designed to be simple to use and full featured.
TRADE JOURNAL:  Powerful, Comprehensive, and Automatic
The Power of Journaling:
Removes emotion from trades
Further ingrains learning a strategy
Identify patterns of strength
Pinpoints opportunities for improvement
Improves decision making
Helps you achieve your goals
Bonus!
This platform offers Auto-Journaling, making it easier to track your progress, while giving you the ability to add notes and tags for further customization.
TRADING IS EASY
Trade Directly from the Platform
Not Ready to Risk Real Cash?
Virtual Trading Account Included.

LEARN WITH NO RISK
Easy to Use, Feature Rich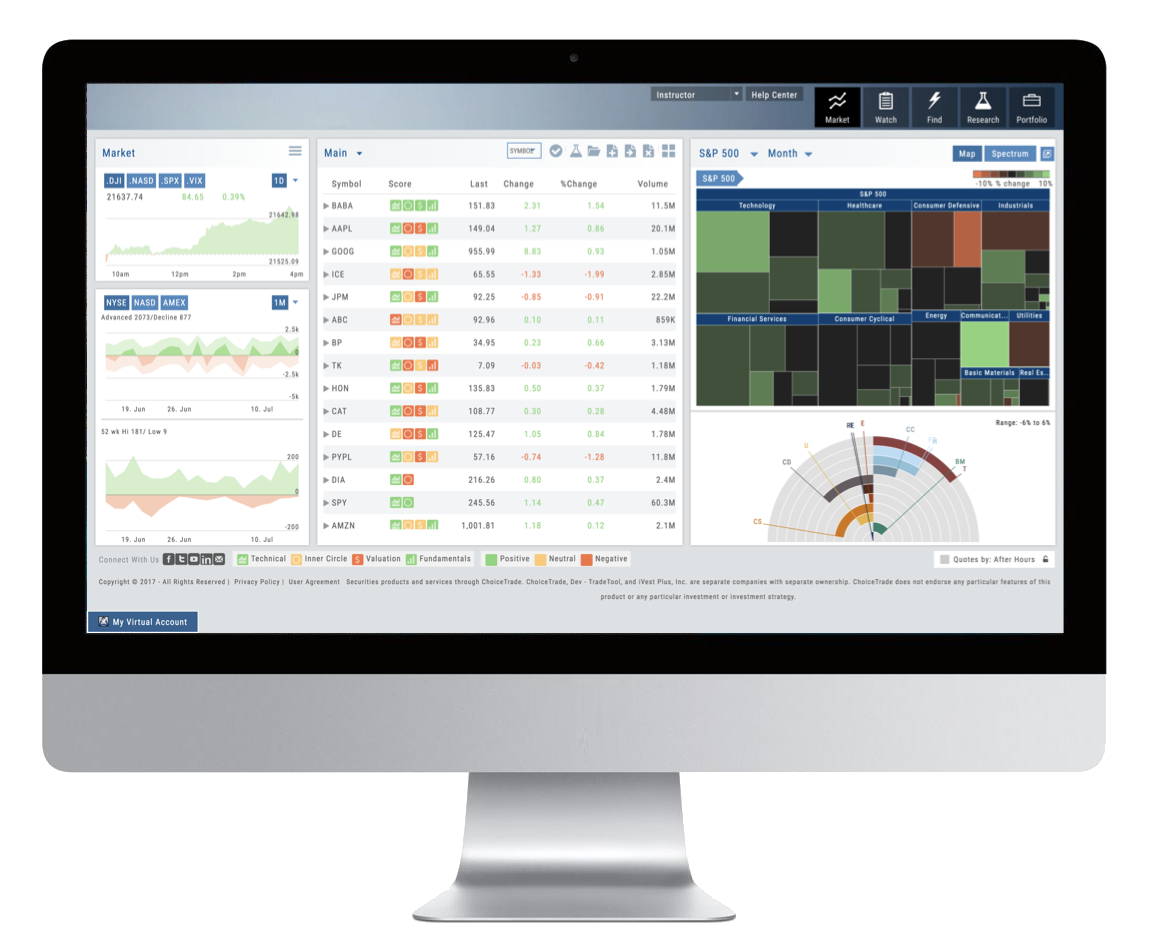 TRADING SIMPLIFIED
Presents Fast, Accurate Views of the Markets
Allowing You to Evaluate and Profit in Any Market
Condition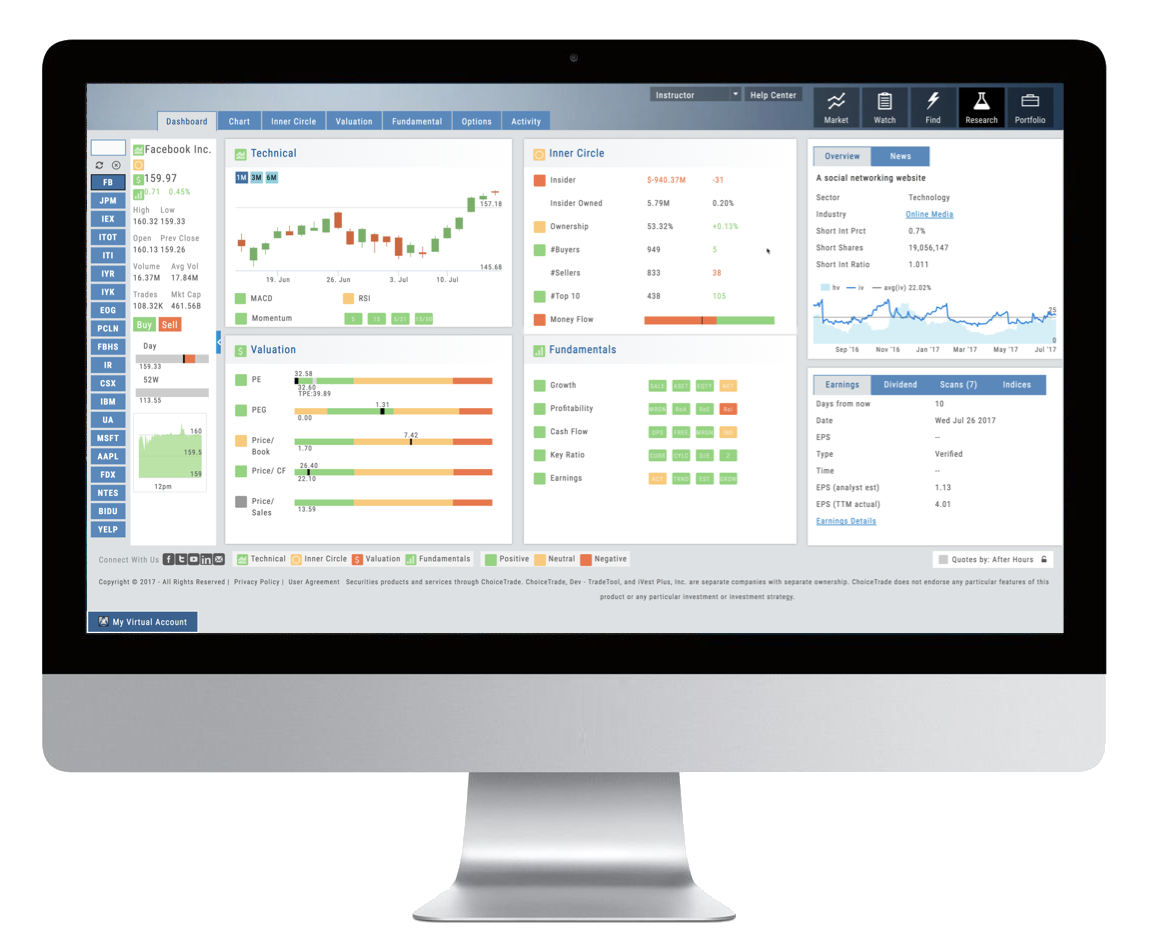 EVERYTHING IN ONE EASY VIEW
The Dashboard:
Technical Analysis, Insider and Institutional Activity, Valuation,
Projected Price, Fundamental Analysis.
Deciding your action has never been easier.
STYLISH CHARTING
Simple, yet Comprehensive Charts
Customize Indicators, Create Multiple Profiles
Display Trades, Journal Entries and More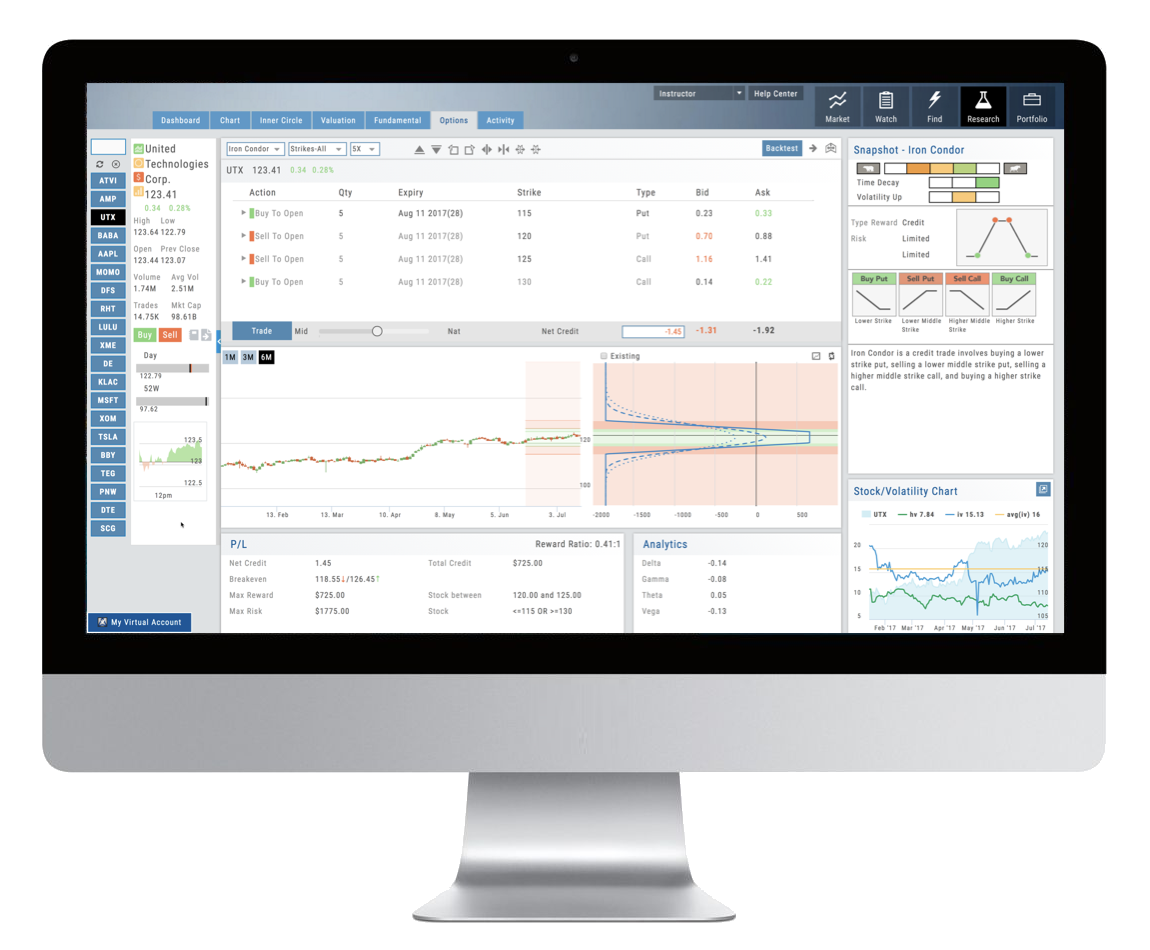 EXPERIENCE OPTIONS
Multiple Tools to Analyze & Manage Trades
Compare Multiple Strategies in a SNAP
Over 20 Templates Available for any Outlook
Backtest Trades for Instant Feedback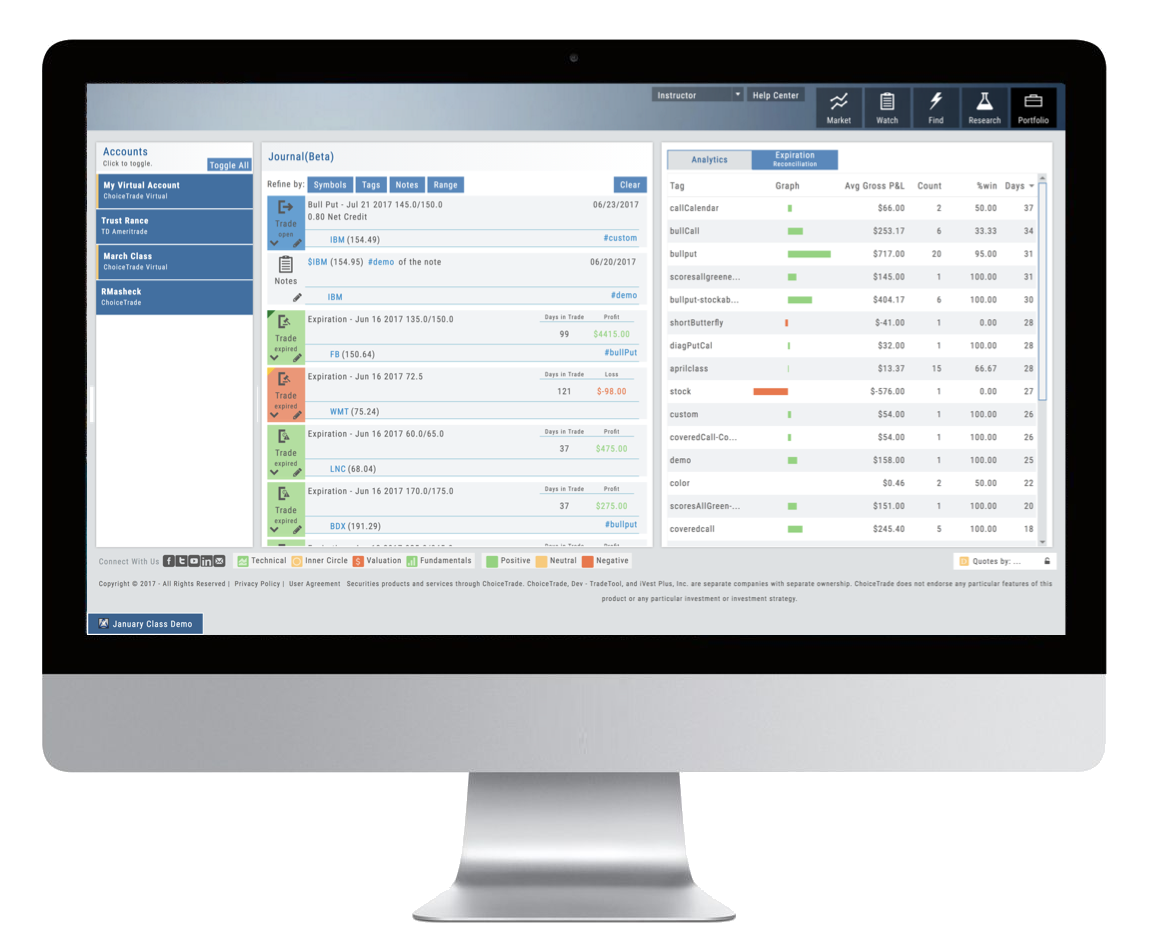 JOURNAL YOUR TRADES
Use the Journal and Analytical Tools to Identify
Strengths, Reinforce Strategy Comprehension,
Reach Goals and Track Your Progress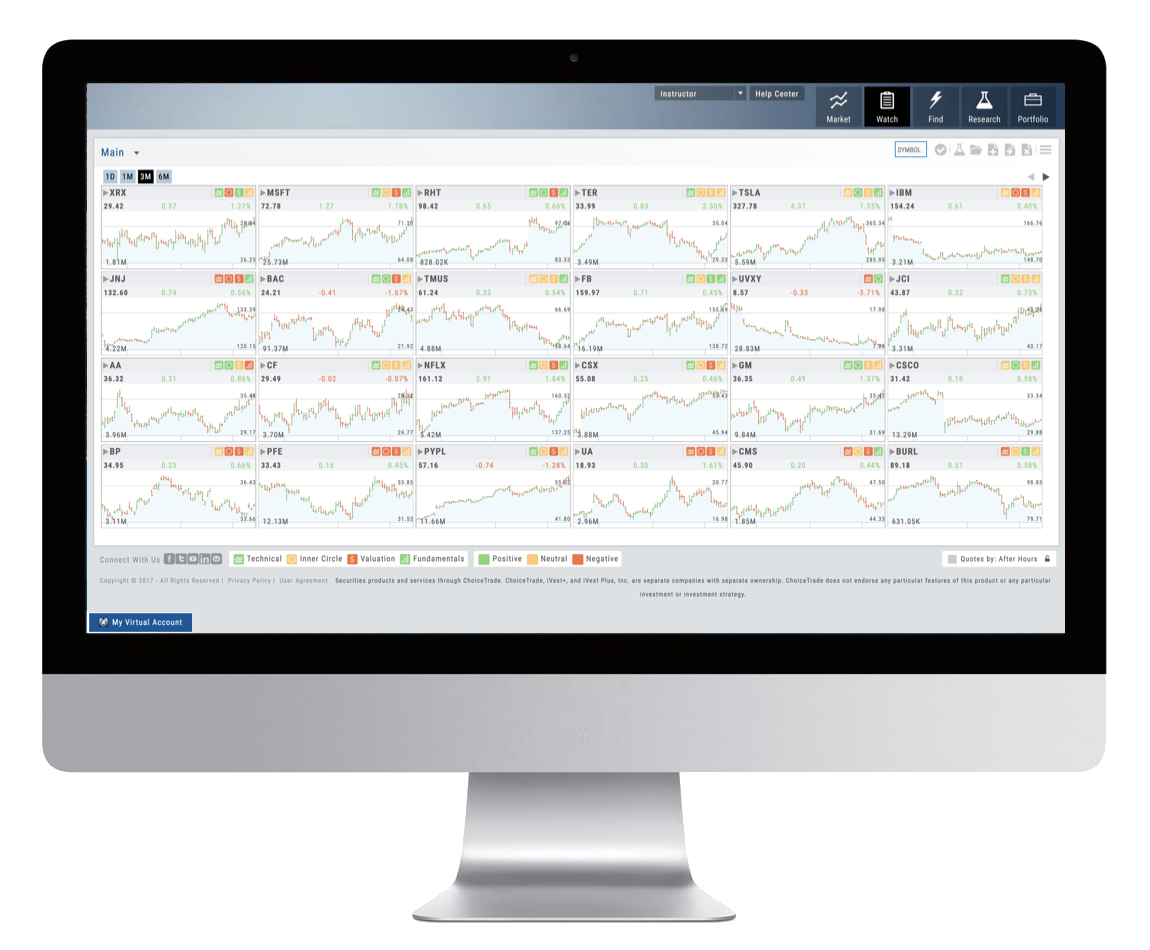 CUSTOMIZED WATCH LISTS
Build and Edit Multiple Watch Lists
Don't know the Symbol? No Problem!
Multi-Select Symbols from List or Tile View
Navigational Platform using the many Icons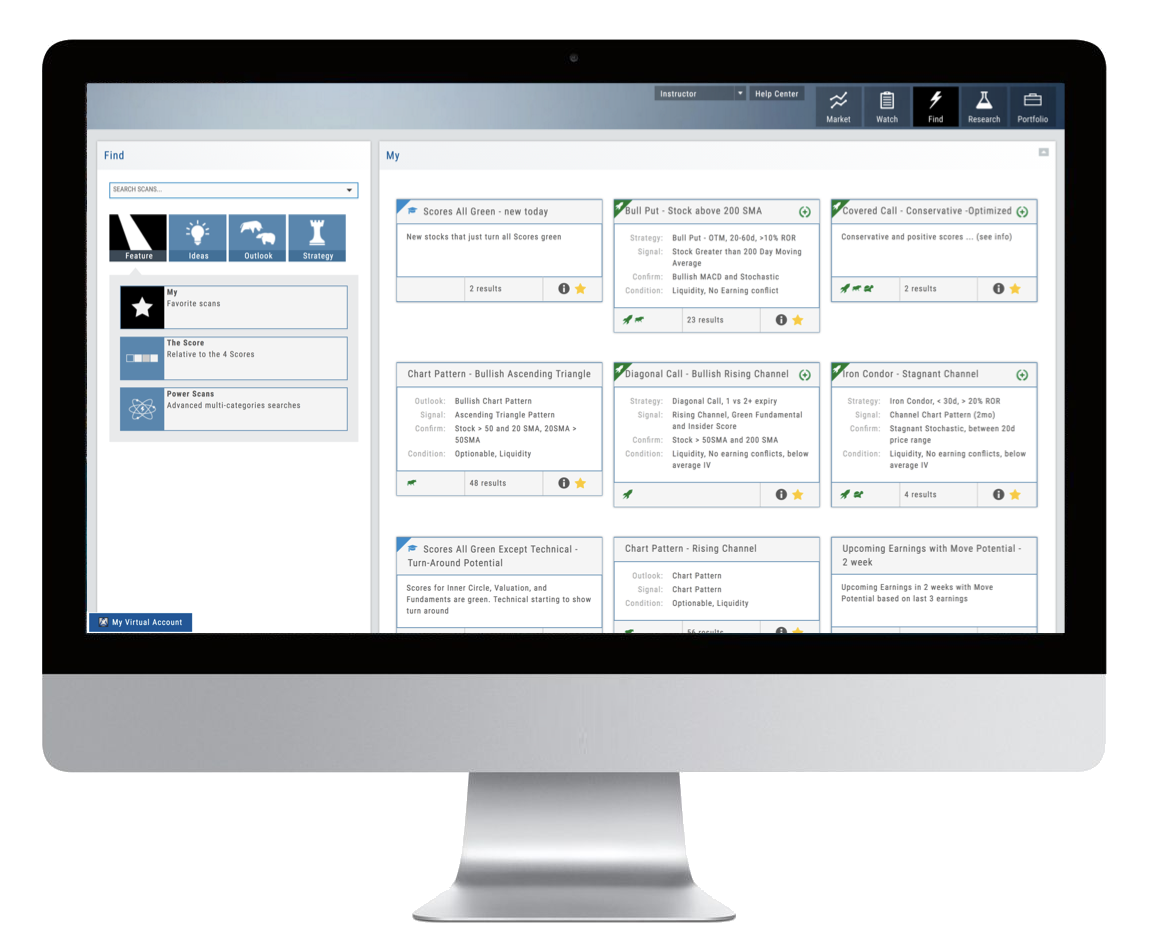 FIND OPPORTUNITIES
Dozens of Scans for Market Outlook and Events
Keep Your Favorite Scans in One Place
Scans include Description and Application
Calendar, Heat Map & Spectrum for More Ideas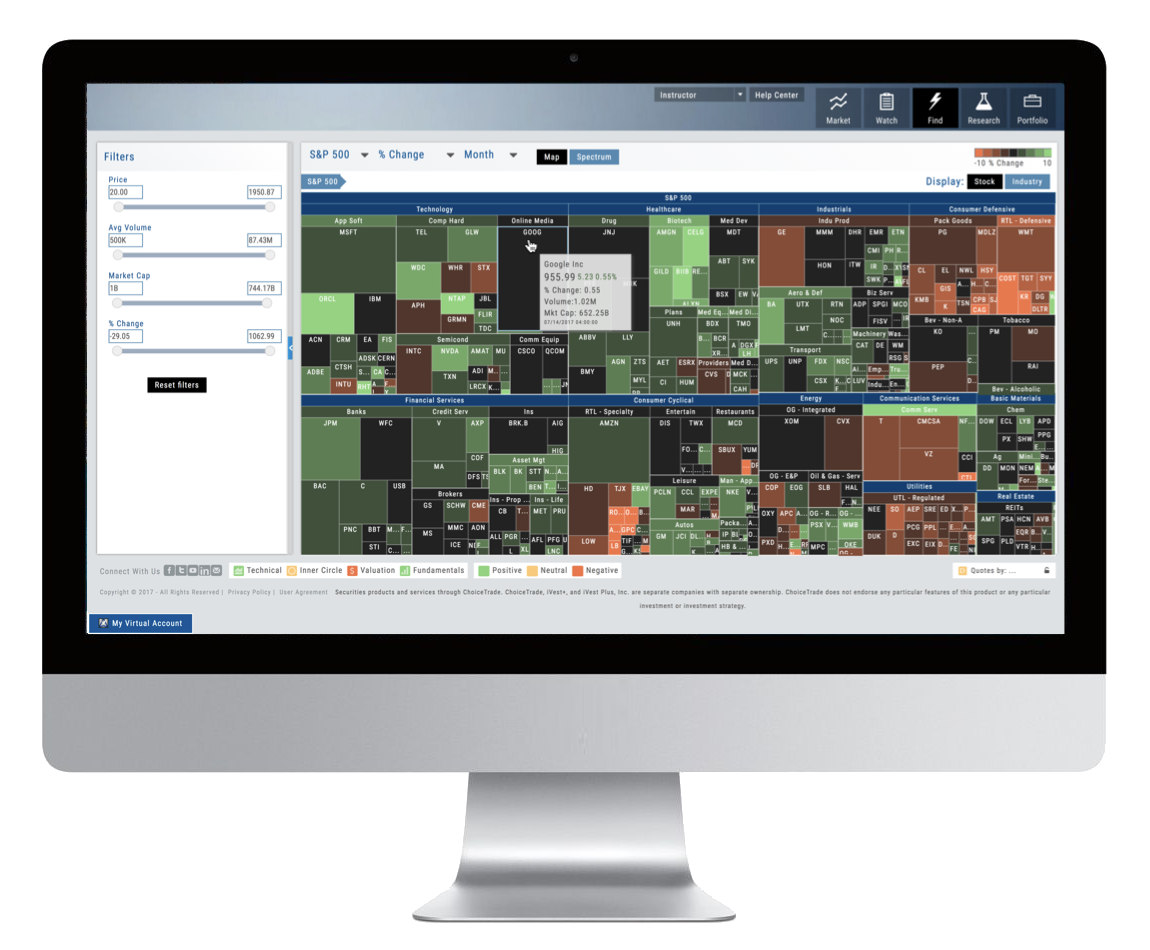 DRILL-DOWN INSIGHT
Powerful Market Performance Views
Ability to Drill-Down from Index to Industry
to Stock Detail.
Edit View by Time-Frame, Criteria, Share Price
Volume, Market Cap and More...